The lock is followed by a canal bridge carrying a farm track (this can be seen from the river and gives the clue that the portage is approaching). After another 700 yards a portage around Gees Lock is required. A canal bridge and the remaining shoulders of the Great Central Railway bridge are a further 700 yards down the canal, the land on the inside of the left hand bend just completed was the site of the Glen Parva brick works.
Just before a modern bridge providing access to a 90s housing development, built on the infilled clay pits, is the portage point to transfer onto the River Sence. Climb over the fence just before the first house on the right hand side. There is a small parking area at the end of New Bridge Road GR SP563985 (LE2 9TG) which can be an alternative start point for this loop.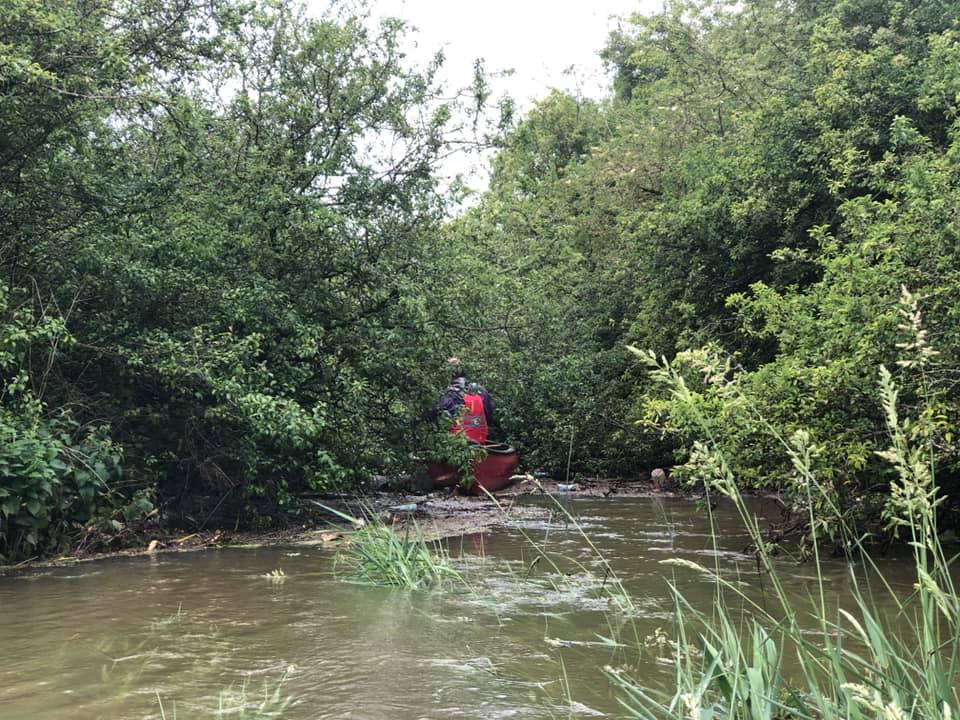 Often requires a saw, Bee King
A tree saw is almost as important as a paddle if you want to make unhindered progress on the next stage of the route. Access to the River Sence is down the bank by the footbridge at the back of the parking area. The Sence heads westward back under the railway bridges, past the back of Whetstone tip and a small sewage works. It is more rural than that description might suggest. A portage around a low field bridge may be needed just prior to arriving back at the confluence with the Soar at Jubilee Park.